Back to news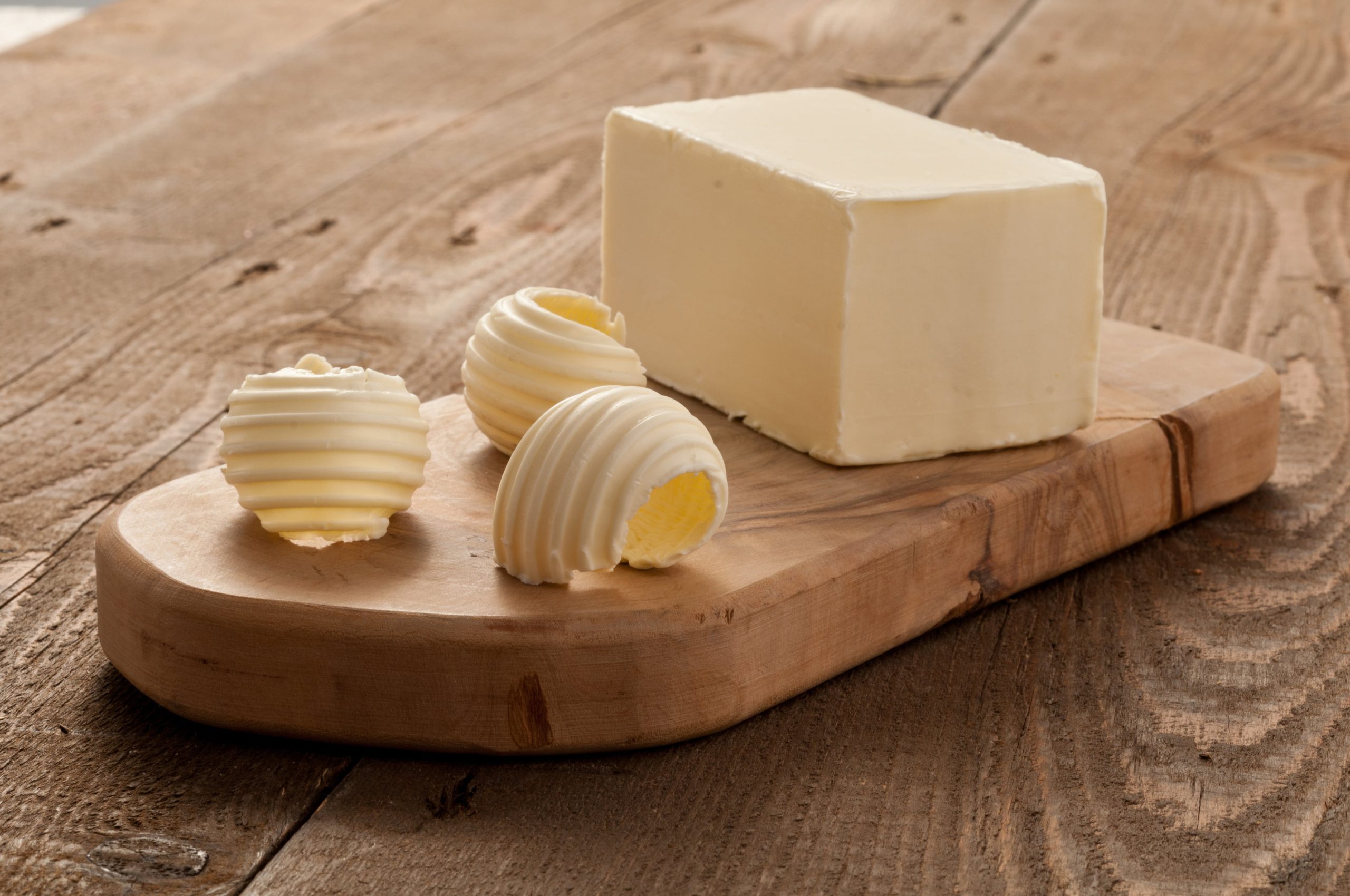 What are the alternatives to butter and vegetable oils?
Karine Costes, our Purchasing Director, brings us her expertise to explain the causes of the butter shortage in Europe.
The causes of the butter and vegetable oil shortage in Europe
The shortage of butter in Europe has been a concern for several months, with prices rising (+120% increase compared to before the crisis) and stocks falling in many countries.
There are several reasons for this crisis:
The war in Ukraine, which is now a long-term issue, is disrupting supply chains, making it difficult for producers and companies to obtain the ingredients needed to produce butter and vegetable oil, thus leading to an increase in production costs. 80% of the world's sunflower oil production comes from Russia or Ukraine.
Other factors include global energy cost inflation (+28.1%), a 27% increase in animal feed costs, increased transportation costs, etc.
We're seeing increasing numbers of extreme drought periods, as have recently been experienced in Australia, New Zealand or the United States. These droughts have caused a 26% drop in butter production in just one year. It's highly likely that these events will get worse in the future.
The poor milk harvest in Europe in recent years has contributed to the butter shortage. Dairy farmers have faced difficult weather conditions and high feed prices, which has resulted in a drop in milk production and a 36.2% price increase in one year. The lack of available milk has resulted in lower butter production.
And in France?
All these reasons also apply in France to explain the drop in milk production over the past 3 years. The drought that sets in just when cattle is put out to pasture, increased production costs, the decrease in the number of dairy farms in favor of the more profitable meat sector, logistical difficulties, etc. are all factors that influence production in France.
What about demand?
Demand is high! The lack of production in New Zealand has led China to buy cheese and milk powder in Europe. Demand from other Asian countries has increased by about 10%. Africa and South America are also increasing their demand. Purchases are made day-to-day, which generates significant price increases.
The butter shortage brings a vegetable oil shortage in its wake. Vegetable oils, such as palm oil, are often used as substitutes in baked goods, and with rising prices, manufacturers are tending to use more of them.
THE METAROM SOLUTION
Our active flavoring solutions to counter the shortages
To face the rising costs of raw materials, Metarom has developed an active solution: Acti'Boost Fat. Acti'Boost Fat is a natural flavor which compensates for the loss of buttered notes and mouthfeel caused by reduced fat. It's also composed of a native starch which plays a structural role: it makes it possible to keep the softness and the melting in mouth sensation.
The advantages of such a solution are widespread:
Substitutes butter and vegetable origin fat
Statement on the finished product: Starch, Natural flavoring
Economic stability compared to butter prices
Save money with Acti'Boost Fat
To compare, let's take a standard recipe for yellow dough with 25kg of butter per 100kg. The 50% reduction in the amount of butter is compensated by our natural flavoring: Acti'Boost Fat. Before the crisis, this solution allowed manufacturers to save 24%. After the crisis, with the hikes in raw material prices, the saving is now 38% for 100kg of dough.
Our Acti'Boost is available in several profiles (buttered, vanilla, creamy, etc.) to match perfectly with cookies, cakes, dairy products, etc.
DEMONSTRATION
Example on a cake with reduced butter content and with Acti'Boost Fat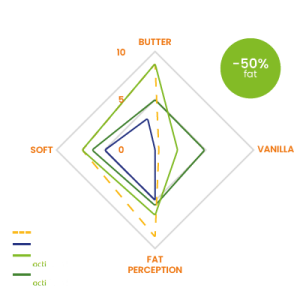 Adding our active solution Acti'Boost Fat compensates for the loss of perception of fatty, vanilla, butter and softness in the mouth caused by the reduced butter in the recipe.
Would you like to receive our Acti'Boost brochure? Ask for it free of charge!

Example of a reduced butter content cookie with Acti'Boost fat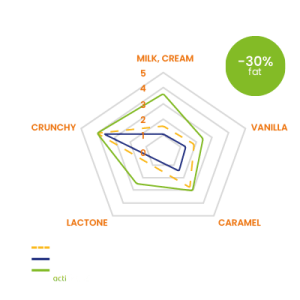 Here we reduced the butter in the recipe by 30%, adding our natural flavoring which gives the matrix a milky, yogurt-like profile with a soft, caramelized core reminiscent of condensed milk. We obtain a more balanced organoleptic profile while keeping a crunchy texture.
Would you like to receive our Acti'Boost brochure? Ask for it free of charge!

MARKET TRENDS
What are consumers' expectations on the subject?
When consumers are shopping, "low fat" is the fourth most important factor behind "low sugar", "fruit and vegetable intake" and "natural ingredients".
main factors when shopping for food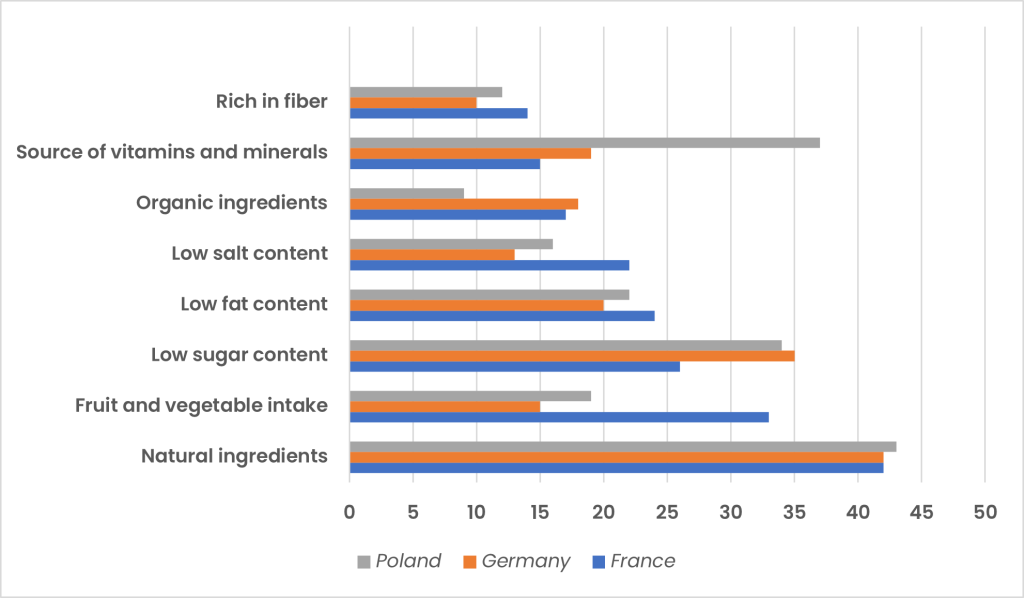 n Europe, in 2022, we can see that the "Low Fat" statement is one of the most attractive attributes to make a cake, a bar or a pastry more healthy. In terms of the "Low Sugar" attribute, it's at the top of this ranking.
Attractive attributes to make a cake, bar or pastry healthier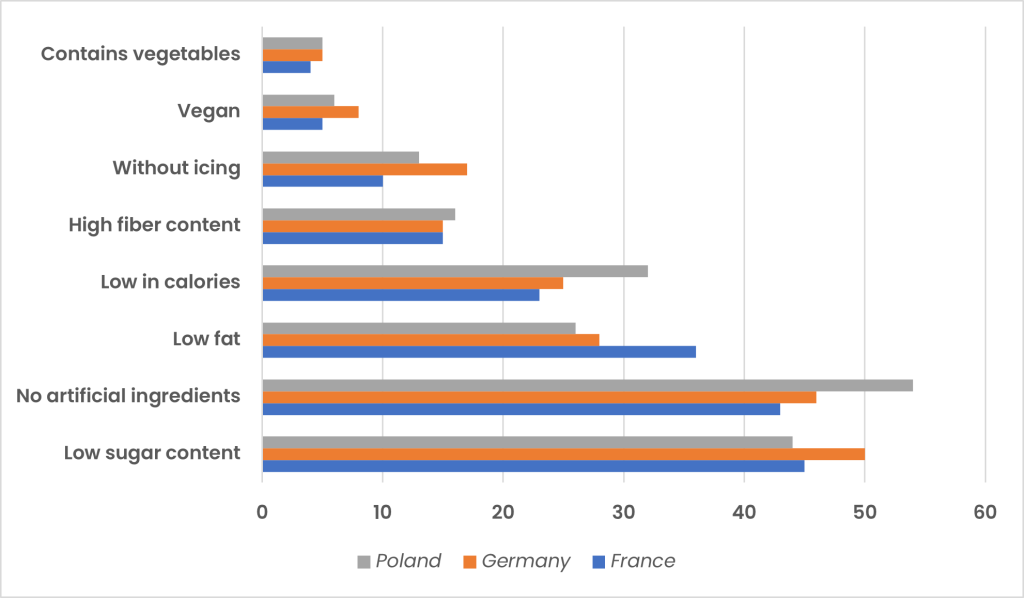 Source: Mintel GNPD 2022
Consumer behavior wavers between 4 major paradoxes that they try to reconcile:
The search for pleasure with ever more indulgent products: multiple textures, inclusions, bi-tri flavors, generous recipes, co-branding, etc.
The demand for health with more natural products, that have designations of origin, quality labels, less processed products, "reduced in", etc.
The thirst for ethics with products coming from responsible channels, vegan, reduced packaging, transparency on the origins, etc.
The need for practicality with products that can be consumed anywhere, at any time, unit packaging, easy to open or products requiring little preparation.
Our solutions to balance the paradoxes:
Active solutions:
Our Acti'Boost Sweet and Acti'Boost Fat ranges naturally reduce sugar and/or fat content by 30 to 50%. They enhance the flavor profile and significantly improve the Nutri-score.
Our Acti'Mask solutions naturally improve the taste of plant-based products by masking unwanted cereal, sweetener, protein, micro-nutrient off-notes.
NXF and Extracts
Our wide ranges of NXF and Extracts combine Indulgence with Safety, Health and Ethics:
95% of an NXF comes from the named product
The cleanest labeling, mentioning the flavoring (e.g.: Natural strawberry flavoring)
Identified origin and controlled supply chain (e.g.: Madagascar Bourbon Vanilla, SVI certified)
Organic-compliance (new EU regulation January 2022) for all Organic end products
Caramels
Our special Caramels and extra indulgent fillings meet every taste expectation.
They also answer the quest for sourced ingredients and designations of origin (butter, cream and salt).
Our health-food compliant Caramels are low-calorie toffees combining the codes of indulgence and health food requirements.
Want to know more about our ranges, the reformulation of your products, or the trends in your market?