Our trending flavor the tonka bean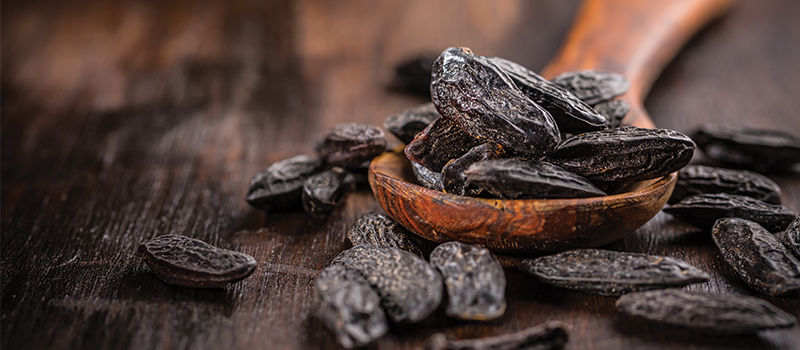 Used in perfumes as far back as can be traced, tonka beans appeared on the cooking scene just a few years ago. It was the top chefs, in particular pastry chefs, who turned the spotlight on them. In their permanent quest for excellent flavors, they found a goldmine of odors and flavors to enhance their preparations in this bean.
If you want to find out more about this extraordinary bean, this article is for you: we tell everything about its origins, its properties, how extract is produced and we give a few applications it's perfect for.
What are Tonka beans?
What we call tonka beans are the almond contained in the stone of the Dipteryx Odorata fruit also known as cumaru or Brazilian teak. It is mainly found in the Caribbean and central and south America, but also in Nigeria. It is cultivated for its very dense, robust timber which is similar to teak, and for its fruit, or more exactly its beans. Cumaru fruit are orange and look like small mangoes. They ripen in winter, fall, and are harvested in the spring.
They are then split open to extract the stone and then the fresh almond. At the start it's bright red, turning to deep black after a short one day maceration in alcohol and a few months or drying. It's just over one inch long and a third of an inch wide.
It's only then that the coumarin is extracted, a characteristic tonka bean substance that can be recognized by its freshly mowed hay odor.
How are tonka beans used?
Originally, the Indian peoples mainly used it for its medicinal properties. It's a valuable antibacterial, anticoagulant, anti-edematous, antispasmodic, detox and relaxing agent. They also claimed it had supernatural properties and enclosed the beans in small amulets that were supposed to be lucky.
Extracted for the first time in 1820, coumarin was one of the first compounds to be synthesized by the perfume industry. Powerful and deep, it's the base note of many heady fragrances such as Guerlain's Shalimar.
More recently, a few top chefs started looking into it. With its "haute couture perfume" profile and its both indulgent and complex palette, it wasn't long before it became a "trend" flavor highly appreciated by the small gastronomy community.
Through TV shows such as Top Chef and Best Baker, it made its entry to everyone's kitchens and became the star product of the most elitist, sometimes even replacing vanilla which they considered as being too main stream. It has a wide range of olfactory notes that are as powerful as they are complex, varying from vanilla to tobacco, and including chocolate, caramel, coffee, and almond with a slightly smoked touch.
As far as possible, it is grated or ground at the last minute to keep its organoleptic properties. Thanks to its suave and hot notes, it's a natural spice for pastry, but can also be found in some original savory preparations.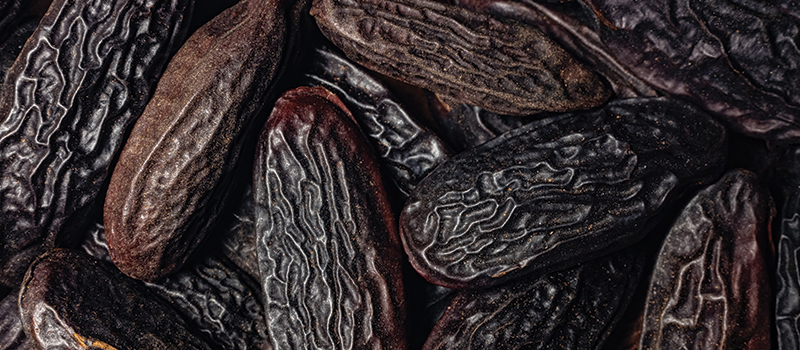 How do you obtain tonka bean extract from tonka beans?
To produce our extract, we first rigorously select select the beans according to many requirements. The optimum harvesting, drying, storage, and transport conditions are the first mandatory step.
On delivery, the beans are isolated, sampled, and then analyzed by Quality Control. It's only once this step has been successfully completed that the extract production process can begin.
Firstly, the beans are crushed. Then they're mixed with water and alcohol to macerate at a gentle temperature. The resulting infusion is filtered to give the extract. A successful extract depends on the base product quality, the quality of the material used, the water/solvent ratio, and finally, the infusion time. The preparation is sampled and tested every step of the way.
The main property of an extract for the food industry is the reconstitution of the original matter's aromatic profile and power. Our tonka bean extract is both rich, complex and subtle. It has a very marked profile, even at small doses: Very spicy, with vanilla and cinnamon notes with a dark caramel and slightly woody background.
Depending on the application and the notes associated with it, the extract will reveal itself slightly differently but always with the same intensity.
We have tested it on many applications: ice cream, yogurt, milks, beverages, cookies, yellow dough, cereals. We propose it either alone, or combined with other hot notes (dark or white chocolate, coffee, caramel, vanilla, praline, honey, etc.), but also with creamy notes or fruity notes (citrus, orchard fruits, melon, coconut, etc.). Tonka beans are also a good match for other spices such as pepper, cardamom, cinnamon, star anise, etc.
In which products are tonka beans used in the food processing sector?
Over the past few years, the number of launches containing tonka beans or tonka bean aroma has steadily increased. Between January 2018 and December 2021, it increased by 232% (source Minitel GNPD). It's mainly found on the European market, especially in France and Germany.
The top product categories containing tonka bean or flavored with tonka bean are:
Sweet spreads
Sauces and seasonings
Hot beverages
Top tonka bean aromatic associations:
Chocolate
Tonka bean alone (it easily suffices in itself)
Vanilla
Almond
Caramel
Cinnamon
Strawberry
Raspberry
Hazelnut
Passion fruit
A few 2022 launches


Would you like to know more? Discuss your project with an expert?