Everything you need to know about manufacturing food flavors
Consumers' concerns about their diet and the impact it can have on their health have led to an increase in the use of natural flavors in the food industry.
What's more, adding a food flavoring to a processed product can reduce its sugar and fat content without altering its taste, and thus improve its Nutri-Score.
Are you a food manufacturer interested in finding out how food flavorings are made? Metarom tells you more!
Food flavoring: Metarom's manufacturing facilities
Metarom natural flavors are manufactured in several stages, using a variety of production tools. Our specialists pay close attention to the different types of ingredients used to produce each natural flavor.
There are several ways to obtain a food-grade flavor:
Blending: ingredients are selected depending on the desired taste profile, then weighed depending on the proportions required to obtain the desired flavor. These ingredients are then blended, using automated equipment, to combine them and distribute them evenly.
Atomization: commonly used in the manufacture of food flavorings, this process involves mixing the aromatic solution with gums and maltodextrin before introducing it into an atomizer where the solution is injected in droplet form. The solution then passes into the drying chamber, where hot air is introduced to come into contact with the droplets. The hot air evaporates the water, leaving behind the aroma particles. These particles are then collected by a filter system. This process has several advantages:

Efficient production of powerful powdered flavors

Flavors suitable for products requiring heat treatment > Biscuits

Easy to handle, store and integrate into a variety of food products.

Emulsion: in the case of an oil-in-water emulsion, the aqueous phase is a mixture of water, preservatives and gum arabic. The lipid phase is a mixture of flavoring ingredients, such as essential oils, and gums.
The two phases are prepared separately, then the lipid phase is added to the aqueous phase gradually, with vigorous stirring. This operation is performed using a mixer. This agitation disperses the lipid phase droplets in the aqueous phase.
This mixture is then subjected to an emulsification process involving the application of mechanical force to reduce the size of the lipid phase droplets and disperse them uniformly in the aqueous phase. This step is performed using a homogenizer.
Emulsifying or stabilizing agents can be added to prevent phase separation. This process creates stable flavors that can be incorporated into a variety of food products such as beverages.
Metarom is also developing its own range of extracts obtained from natural raw materials that comply with food regulations in terms of labeling and use (coffee, vanilla, fruit: strawberry, lemon, orange, etc.). Extraction takes place in several stages. After having selected the raw materials and carrying out pre-treatment (sorting, washing, grinding, drying), we move on to the solvent extraction or distillation stage. The extract can be stabilized with stabilizing agents to preserve its quality and extend its shelf life. The extract is then packaged and ready for dispatch to our customers.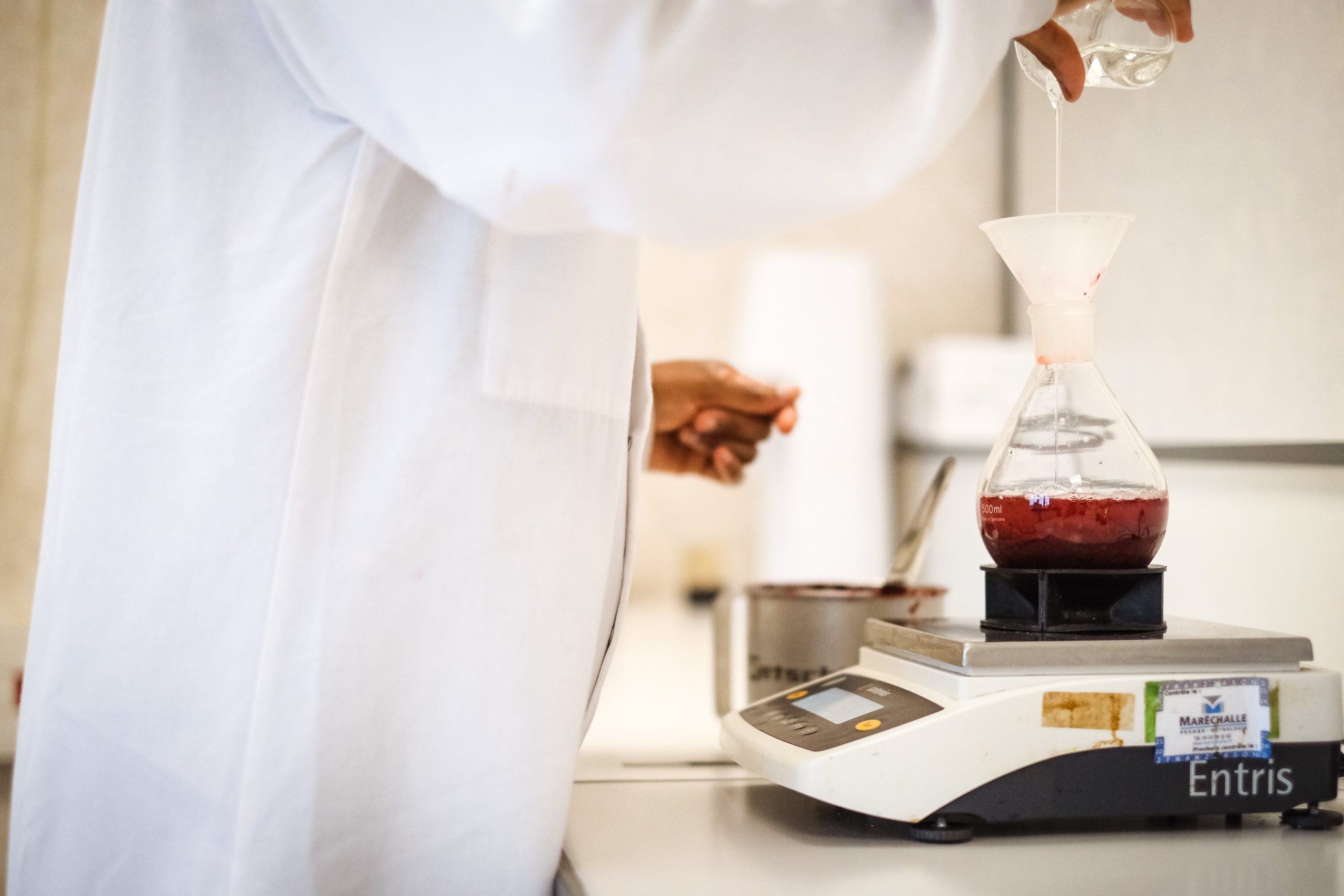 Metarom: well thought-out logistics for assured quality
Metarom is committed to providing its customers with the very best in high quality natural food flavorings. To achieve this, Metarom's teams have set up a very rigorous logistics organization. To ensure perfect traceability, a coding system tracks the storage and production of flavors and raw materials in real time. Metarom's warehouses have a large storage capacity to support its customers' projects.
Metarom also has experts dedicated to the creation of innovative flavors. The aim? To meet the needs of customers wishing to improve their products' nutriscore. These flavors are designed to reduce the fat or sugar content of a product, without altering its texture, flavor or smell. The product thus obtains a better Nutri-Score, offering you the opportunity to use less raw material such as sugar or butter, and therefore to save money.
The Nutri-Score calculation algorithm is evolving to promote healthier food choices. Metarom supports you in the reformulation of your products.
Do you need advice on which flavoring to use in your product preparations? Metarom informs you about its range of flavors with 100% natural composition.