Back to news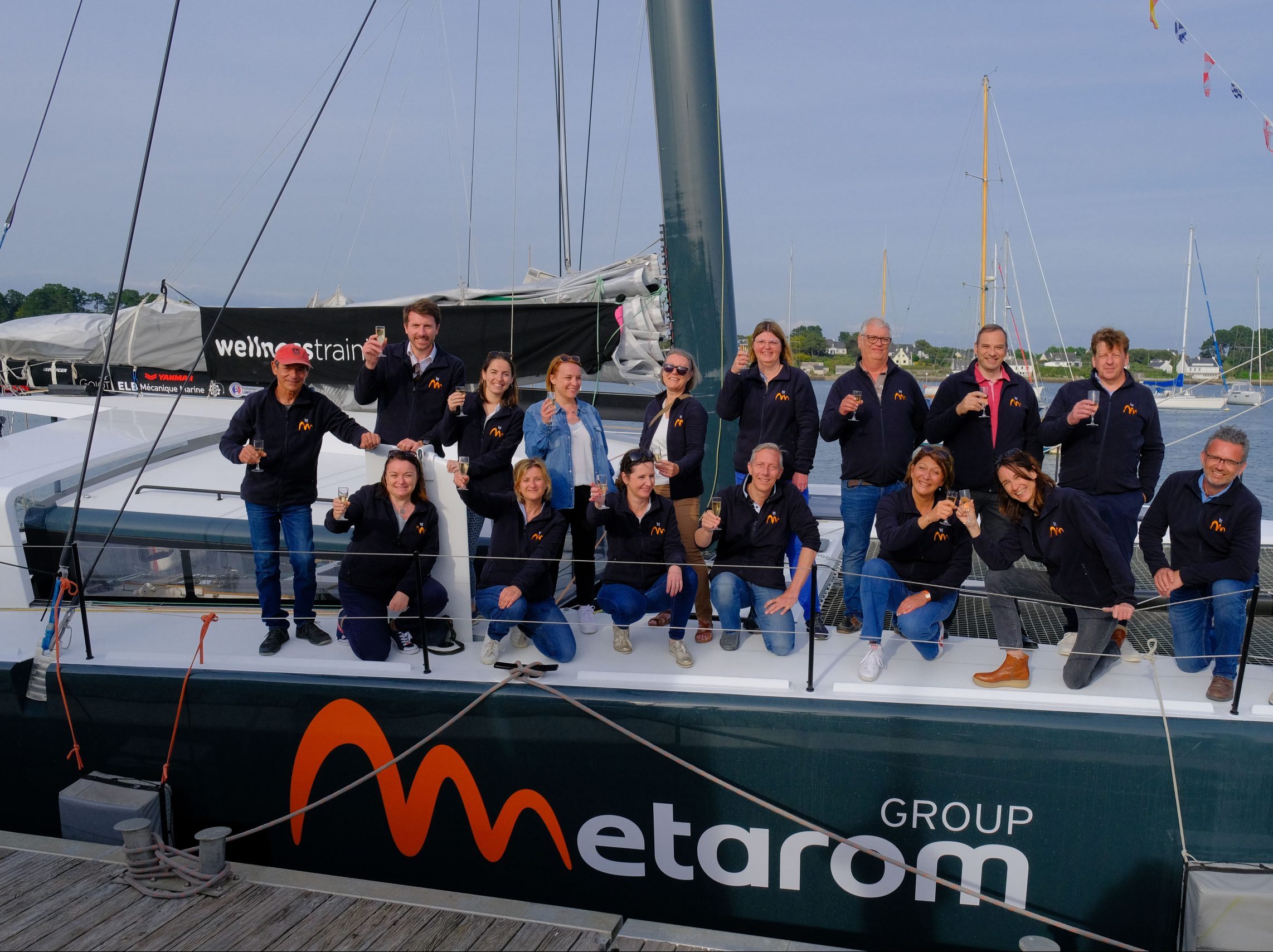 Successful christening in La Trinité sur Mer for the Metarom MG5, Marc Guillemot's latest catamaran
Corporate
Press coverage
Events / Exhibitions
The champagne bottle was smashed into pieces when Antoine de Caunes, sponsor of the "Metarom MG5", struck it firmly on the bow of Marc Guillemot's newly christened catamaran berthed alongside the Môle des Pêcheurs (the Fishers' Pier) in La Trinité sur Mer. This came as a relief for the sponsor. Marc had put pressure on his famous pal. It's important the bottle should break on the first try "I am not superstitious, but still..."
This was followed by a second explosion, of applause this time, on the quay occupied by a hundred or so onlookers who had come to watch the traditional ceremony. Enthusiastic friends of the skipper and his partners Metarom Group, Wellness Training and Héole showed up, as well as onlookers and Trinitains intrigued by the scene, which took place in gorgeous sunshine, at the end of a promontary quay in the full sight of proud Class 40 ULTIM trimarans and pretty typical rowboats.
Once glass splinters had been retrieved thanks to a clever device, to avoid polluting the port, the skipper and his sponsor were greeted on the quay by partners and guests who had come to celebrate the watercraft, a remarkable concept of sustainable development, with practically every essential part being reused after having benefited prominent seamen on board prestigious racing boats. As for the new, innovative parts on the Metarom MG5, they are primarily centered on energy saving and new energies.
In the speeches that followed, the responsible concept was praised by the private partners who had chosen to embark on the project to echo the sustainable development spirit in their respective companies. Representatives of the Morbihan population, Philippe Le Ray, President of the Communauté de communes Auray Quiberon Terre Atlantique, Deputy Jimmy Pahun and Government representative Joël Mathurin, the Prefect of Morbihan, also expressed their pride in having such a well-rounded project developed on their territory.
In six months, on November 6th, the Metarom MG5 will be on the starting line of the Route du Rhum. Right now, the time has come for intensive training and careful fine tuning of the catamaran and its mainsail prototype, which provides sail carrying power as well as electric energy thanks to a revolutionary system of photovoltaic cells built in the fabric.