Back to news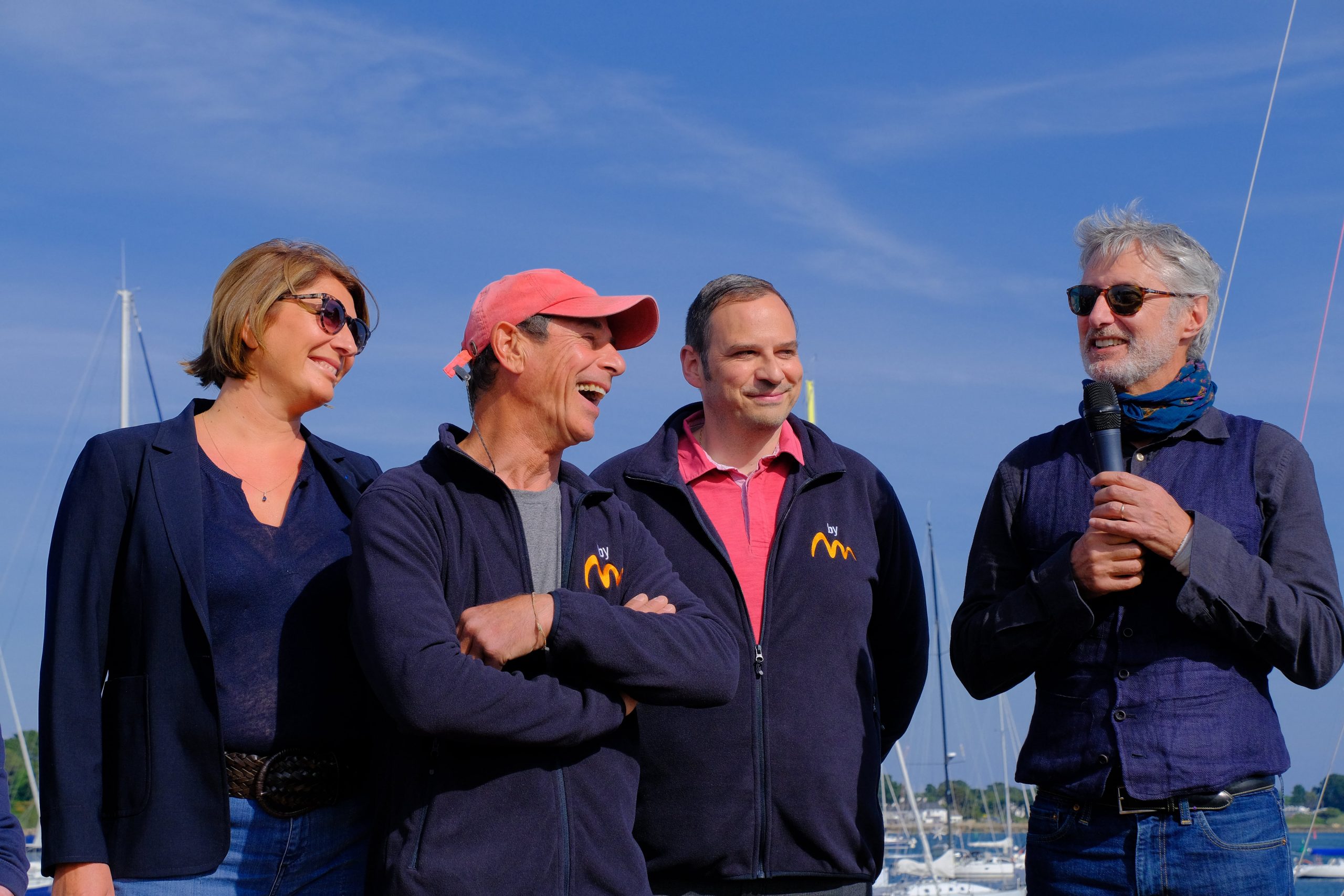 Metarom Group and Antoine de Caunes inaugurate Metarom-MG5 | Metarom
Corporate
Events / Exhibitions
2022 Route du Rhum
Metarom Group and Antoine de Caunes inaugurate Metarom-MG5
watercraft The world's first solar sail-equipped watercraft
Friday, May 6th 2022, La Trinité-sur-Mer (56) - Céline Hocquet, Director of Metarom France, inaugurates Metarom-MG5 watercraft in the presence of Marc Guillemot, skipper on the Metarom-MG5 catamaran, Antoine de Caunes, filmmaker and presenter, who is sponsoring the watercraft, and Wellness Training, the watercraft's second partner. This is a first for Metarom Group (located in Boves, 80), specialized in the creation, manufacture and distribution of flavoring solutions and caramels for the agri-food industry, which has decided to invest in a sailing race, and not the smallest one: the Route du Rhum. This occasion marked the official partnership between Metarom Group and the MG5 watercraft, which was chosen by the company for its eco-design and innovations, which truly mirror the family-owned company's values.
The first watercraft equipped with an organic photovoltaic sail
Designed in the line of sustainable development, skipper Marc Guillemot's new catamaran, the Metarom-MG5, bears a revolutionary mainsail: a solar sail developed by Héole, located in Vannes (56). Thanks to a technology which includes electric generators based on organic photovoltaic cells, the company was able to develop the first solar sail to meet the Metarom-MG5's energy needs. The sail provides energy for on-board electronics, a real evolution towards zero fossil energy use on board sailing boats.
A recycled catamaran
Eco-design doesn't stop at the sail: for every major part of his catamaran, skipper Marc Guillemot also recycled parts from high-performance race boats. Thanks to upcycling and to its solar sail, the Metarom-MG5 is a one-of-a-kind watercraft, committed to circular economy, renewable energies and sustainable development.
Antoine de Caunes, sponsor of the Metarom-MG5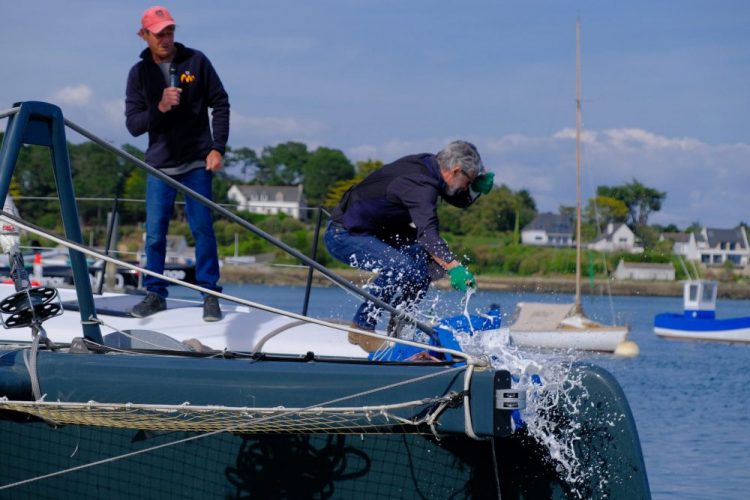 The famous actor and radio host accepted to be a sponsor for the Metarom-MG5. The sponsor of this watercraft of the future will also be on the starting line of the upcoming 2022 Route du Rhum. His presence will consolidate his support towards skipper Marc Guillemot and the eco-responsible project that the Metarom-MG5 represents.
Metarom-MG5: common values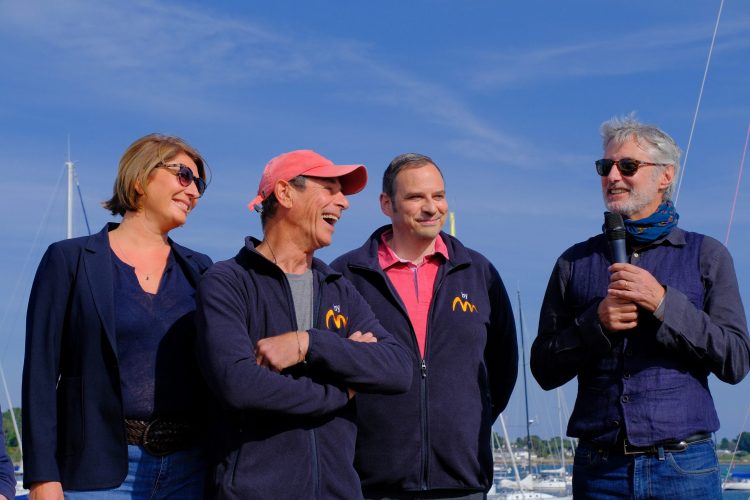 Metarom France, a family-owned SME located in the Hauts-de-France region, and its international group Metarom Group have decided to embark on the original, ambitious project along with Marc Guillemot and Wellness Training, partners of the watercraft. The values of sustainability and innovation embodied by the innovative, responsible watercraft encouraged the company to go for the enriching, inspiring experience along with its team.
In addition to their common values, Metarom France's ambitions echo those of Marc Guillemot. While the company Héole has developed the world's first organic photovoltaic sail, making it possible to produce electricity on board, Metarom France is planning to install photovoltaic shade houses on its Boves headquarters (80). Thanks to these panels, the company, which recently received Gold certification in its ECOVADIS assessment, measuring progress on Sustainable Development action plans, will be able to lower its carbon footprint and charge its green vehicle fleet.
"We were amazed by Marc Guillemot's determination and capacity to innovate, to do things differently and to customize when designing the MG5. When he started building the MG5 with parts provided by his skipper friends, Marc was developing sailboat recycling, echoing METAROM's ambition to identify waste streams on the territory in a bid to launch our first eco-designed products by the end of the year", added Céline Hocquet, Director of Metarom France.
If you are a journalist and want to find out more about Metarom Group's partnership with Marc Guillemot and Wellness Training for Metarom-MG5, contact Léa Doucet, our press agent, on +33 (0) 777 385 285 or at media@metarom.fr

About METAROM France
Created in 1953, Metarom France is a subsidiary of Metarom Group, a family-owned SME specialized in the creation, manufacturing and distribution of flavoring solutions and caramels for the agri-food industry. The company is specialized in the sweet agri-food market and is a player in the food ingredients chain. Metarom is located in Boves (80), in the Hauts-de-France region, and is driven by values of sustainability, security and ethics. Its 140 employees cover 45 different types of jobs.
Metarom Group today has 280 employees over 10 subsidiaries on 5 continents. Boasting a €30 M turnover for Metarom France and €50 M for the Group in 2020, Metarom now stands as a reference company in the creation and manufacturing of flavorings and caramels. Metarom brings health and indulgence to foods and creates unique flavoring signatures for every generation.
Website : www.metarom.eu
Linkedin : Metarom GROUP